Jeremy Pruitt remembers being a college football player and seeing credit card applications around campus.
The credit cards had "about 28 percent interest," Pruitt said, recalling the potentially risky financial decision for an 18-year-old to make.
Now the
Tennessee football
coach, Pruitt wants to make sure his players are making sound financial decisions so he enlisted the help of financial adviser Didier Occident.
"We wanted to educate our guys and they need to understand that right now they can use their own money to start making a little bit of money," Pruitt said. "They can pay themselves instead of living check-to-check."
Photos: Vols football practice Aug. 14 – running backs and receivers
Photos from Tennessee football practices on Aug. 14 with running and wide receivers.
Occident came to UT on Saturday and spoke to the Vols. He's the latest speaker Pruitt brought to campus during preseason practice, when he aims to educate his players on subjects including how to treat women, how to lead, and drugs and alcohol.
"We try to take in as much as we can in notes and pictures," wide receiver Marquez Callaway said. "We try to implement what they say into our lives."
Occident, who is from Richmond, Virginia, created a seminar called Secure The Bag Program to teach wealth management and financial literacy.
He teaches athletes about budgeting concepts, saving and paying yourself first, and understanding credit and compounding interest.
"I think I'm pretty good at managing money," center Brandon Kennedy said. "But (Occident) gave us little tips to help us. … I think the biggest thing I take away is just learning about there's credit and the different things that work behind that, and there's more to it."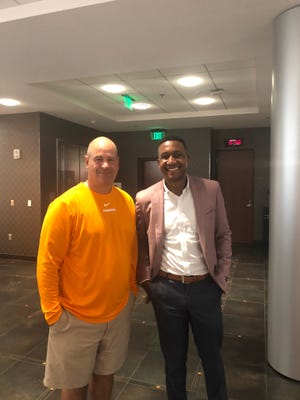 Tennessee football coach Jeremy Pruitt and financial adviser Didier Occident after Occident spoke to the Vols on Aug. 10, 2019. Courtesy of Didier Occident
Occident started the program to fix a need he saw after reading stories of former professional athletes going broke or falling on hard times.
"My goal was in my own way to give athletes something they can leave the experience with that can set them up for the rest of their lives — something more their school provided with them to be successful in life," Occident said. "What surprised me the most is how hungry the kids are for knowledge. The messages you get after on social media if you can make this fun and engaging, the response is tremendous."
He combined his love for football with his passion for financial management into the Secure The Bag Program. The idea started about six years ago, but turning it into a full-blown curriculum took time.
He first delivered the program at Florida State — the school he has loved since he was 9 years old — last summer.
Tennessee is the second team he has spoken to thanks to a connection with UT quality control analyst Jeremiah Wilson, who worked at FSU.
"Big programs like Tennessee, you get highly recruited guys with the mindset of getting to the NFL," Occident said. "But we understand the statistics and know how many guys get there. Not many guys get there and fewer guys get to play for a long time. …
"So how do we start the building blocks of doing something with what we have now?"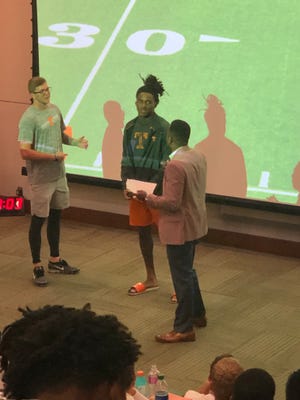 Tennessee quarterback Brian Maurer (left) and wide receiver Marquez Callaway (center) talk with financial adviser Didier Occident on Aug. 10, 2019. Courtesy of Didier Occident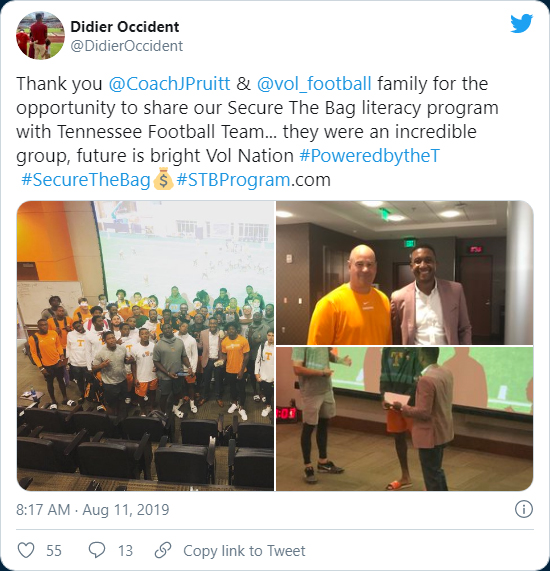 Occident, a Virginia Commonwealth graduate, has talked with Oregon, Michigan, Georgia, and more about delivering his program.
He hopes to continue to build it with Tennessee, stressing the involvement of Pruitt — who sat in the front row and was engaged, Occident said.
"We want to help educate them so that when they leave here, they have a plan," Pruitt said. "They can look forward to being able to get something for their mom or grandmother at Christmas. It's really good. We are trying to help our guys in a lot of different areas, and we are going to continue to do that."